University
GoDaddy University Relations
Our new grads and interns make a difference starting on day one! You'll be motivated each day by the millions of small business owners and individuals we empower worldwide. At GoDaddy, you can take part in creating the next-generation of technology that powers the world's largest cloud platforms. If you have the ambition to do work that matters, we'll give you a place to shine. At GoDaddy all employees have a voice, and you can be exactly who you want to be.
GoDaddy Internship Program
Our Intern Program was built on two key principles: do real work and be the authentic you. Over our 12-week summer program you'll contribute value by working on projects that directly impact our 17 million customers, building a network of lasting relationships, and learning how you can be you – with us. You'll see why 100% of our interns said they would recommend the program to a friend, and 95% of them converted to full-time roles last summer. Hear our stories – then start your journey.
GoDaddy Grad Program
Adulting is hard – we get it. At GoDaddy, you'll be welcomed by a network of previous new college grads dedicated to helping you be successful through onboarding, learning, and social engagement events. You'll learn the ropes quickly, establish an inclusive and encouraging workplace environment your coworkers, and learn how you can make the most of your experience with us at GoDaddy.
Meet some Interns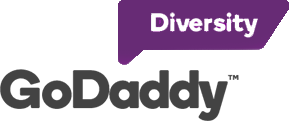 Our diverse employee population reflects the customers we serve. We support and celebrate everyone on our team through our Employee Resource Groups, open and inclusive to all.
Learn More